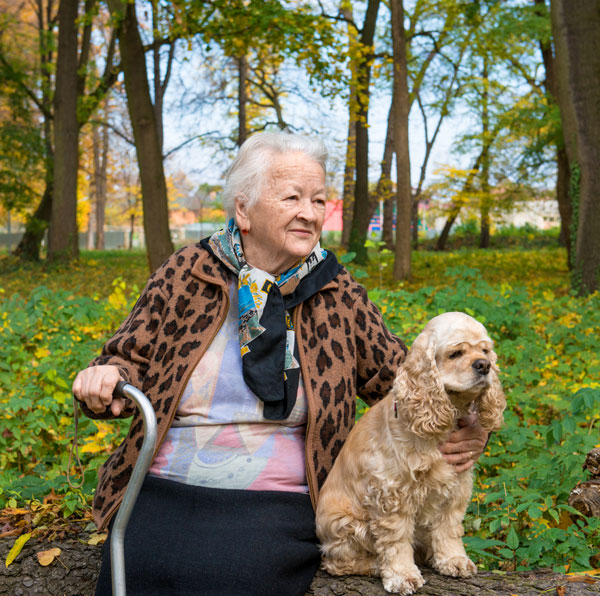 CSRA's Seniors for Seniors adoption program (S4S) is all about helping people aged 65 years or better experience the many benefits of sharing their lives with a canine companion. CSRA's expert matchmakers will help you select a senior cocker kid (typically over age 7) who fits into your lifestyle and housing situation. Learn more about how to adopt from CSRA.
Benefits Of Adopting A Lifelong Companion
Research has proven that by adopting and spending time with a canine friend you will enjoy lowered stress levels and better health.
Sharing your home with one of our cocker kids provides companionship and opens opportunities for meeting new people.
Having the company of a beloved pet has been proven to reduce depression and feelings of loneliness.
Our older cocker spaniels are well-suited to the quiet homes and relaxed lifestyles enjoyed by our senior families.
Senior cockers are often gentler, calmer companions, and often are already trained.
Post Adoption Support For Our S4S Families
We want to make sure you and your new cocker spaniel are doing well, so we will check in periodically to see how things are going and if you have any questions or concerns.
Please feel free to contact your follow-up coordinator any time to talk over behavior problems or to get advice as you and your new friend get to know each other.
If you become unable to take care of your canine friend you or a family member may return the dog to CSRA.
Generous donations to our S4S program allow us to provide a reduced adoption fee of $25 for those seniors who are on fixed incomes and need a little extra help caring for their new friend.
For more information about CSRA's Seniors for Seniors adoption program or to visit with us about our available S4S dogs, please email or call 512-527-9923.